The probability of rain will be high through next week, but we will not have to deal with cold temperatures until the week of December 12th. Let's dig into the nitty-gritty details…
A SATURDAY REVIEW: The day started cloudy and wet, with isolated showers that stormed the landscape. A cold front that moved down to the southeast was the culprit, and that front left the state early this Sunday morning. Highs on Saturday included 64F in Anniston, 71F in Birmingham, and 75F in Tuscaloosa.
GO ON MAPS: Much of the United States is under the influence of upper high pressure over the western Gulf of Mexico. This ridge will move eastward into the central gulf. You would think this would mean good weather, but not so fast my friend. Alabama is on the northern edge of this ridge, which makes us vulnerable to occasional disturbances that slide across the western river. Each of these disturbances brings with it a chance of rain. But the good news is, no severe weather in the next week.
SUNDAY RISING: Thick fog develops quickly after sunset in areas along and south of I-59. Visibility was near zero overnight in some South Central Alabama locations. Dry air worked in areas northwest of I-59 that held off the development of fog. It's much cooler behind the cold front today, with 50s for expected highs along and north of I-20. Some places in north Alabama will struggle to get out of the 40s today, while areas to the south will still experience the mid to upper 60s. We can't rule out a few showers today, as a disturbance is moving north of us. Overnight lows will be in the 40s with thick clouds and a southeast wind after midnight. Even at night the showers start.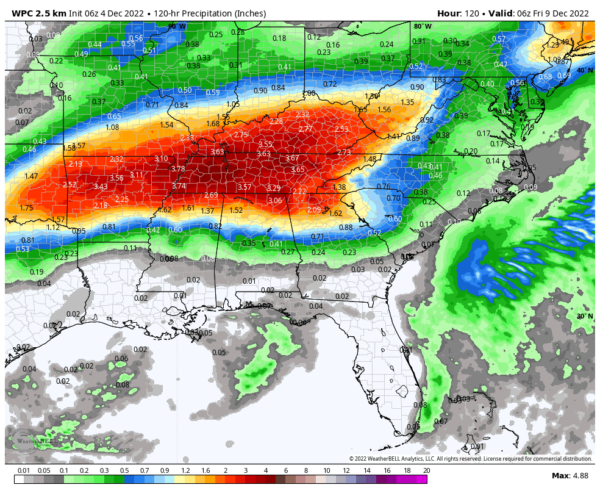 MONDAY/TUESDAY: Another disturbance will lift the old front to the north, bringing with it the accompanying lift, and the result for north and central Alabama will be widespread light to occasional moderate rain. It is interesting to note that the Weather Prediction Center is looking at North and Central Alabama for an excessive precipitation risk on Monday and Monday night. Rainfall amounts could then reach 2-4 inches across the Tennessee Valley from North Alabama to southern Tennessee. A few storms could be mixed in Monday afternoon and night, but mild weather won't be a problem. High temperatures will show up across the state Monday, with 50s in the northeast corner, 60s in the I-22/US-280 corridor, and lower 70s in the southwest. On Tuesday, the ridge will lift north and the rain will retreat with it into Tennessee. I am concerned about the rainfall amounts that will be across the Volunteer State as a whole. Rainfall amounts could reach 7 inches in parts of Middle Tennessee. Highs on Tuesday will be in the upper 60s north, lower mid 70s and upper 70s south.
MIDWEEK AND BEYOND: With the ridge in place over Alabama and the Deep South, record warmth will be the interesting thing to watch. Highs on Wednesday and Thursday will be in the 70s. Record highs in Birmingham for Dec. 6 and 7 are 78 and 80 degrees, respectively. Although these records may be safe, we will still be hot. The sky will remain mostly cloudy to partly sunny. We can't rule out a shower or two, but the best rain chances will be across the Tennessee Valley. The lowest temperatures are around 60 degrees.
END OF THE WEEK AND WEEKEND: Another frontal system approaches Alabama on Thursday. This will bring a band of showers across the state on Thursday night, perhaps into Friday morning. The temperatures will be slightly cooler on Saturday and Sunday. On the night of Saturday there will be another chance of rain before another cold front. Weekend highs will be in the 60s. Lows will drop back into the upper 40s and lower 50s.
WEEK TWO: It looks like we'll get a break from the rain Monday and Tuesday next week, but with some active weather systems on Wednesday and Friday, high rain chances will return. Temperatures will drop, with highs falling back into the 50s and 30s.
BEACHCAST: There will be a few showers along the beautiful beaches of Alabama and Northwest Florida through Monday night, but a surface high is expected to develop over the region through Tuesday, giving them dry weather until a frontal system brings wetter weather late in the region. weekend. Highs will be in the 70s all week, threatening to touch 80F around midweek. Lows will be in the 60s. Just about perfect for December. Water temperatures are right around 60F. The rip current is expected to be fairly low for the next few days.
Click here to view the Beach Forecast Center page.
NATIONAL: A storm system off the coast of Oregon and California is bringing mountain snow and lower-level rain to the West. Rain showers and mountain snow will continue from Washington and much of California on Sunday, with snow in the Great Basin and northern Rockies. A few rain showers are likely in Arizona and New Mexico. Winter storm warnings are in effect for the Sierra, where they can measure snow in feet. Winter weather advisories are in effect for wide areas from Northern California to the Rocky Mountains of Montana and Wyoming.
DANCING WITH STATISTICS: Ten tornadoes were documented across central Alabama from last Tuesday's and Wednesday's severe weather event by National Weather Service Birmingham investigators. 6 were graded EF0, 2 graded as EF1, and two were EF2. The Flatwood-Willow Springs EF2 had winds of 120 mph as it moved across parts of Elmore and Montgomery counties. This is the storm that killed 2 people when trees fell on a mobile home.
WEATHERBRAINS: This week, the panel will commemorate the December Kentucky tornado outbreak, which is the deadliest in the history of the Bluegrass State. Watch the show at www.WeatherBrains.com. You can also subscribe on iTunes. You can watch the show live at live.bigbrainsmedia.com or on James' YouTube channel.
ON THIS DATE 1952: A fine chilly morning would turn deadly as high pressure stagnated the atmosphere over London. By the 5th, a thick "fog" covered the city. Residents began to complain of a burning sensation in the throat. Soon everything was covered with a dirty layer of soot. Visibility dropped to zero. Hundreds of people were admitted to hospitals due to breathing difficulties. Over 4,000 people died. Other major toxic smogs affected the city in December 1873, January 1880 and 1892, but 1952 marked London's worst smog event. Follow my weather tweets on Twitter. I'm @wxhistorian on Twitter.com.
Category: Alabama Weather, ALL POSTS, Weather Xtreme Videos