If you've been paying attention to the Premier League this season, you've already seen a lot.
You've seen Erling Haaland detonate what should be the best league in the world. You have seen Mikel Arteta prove the illogicality of the managerial merry-go-round. You saw how Liverpool shot themselves in the foot. You saw how Thomas Tuchel was fired less than two years after winning the Champions League. You saw Manchester United take their first steps, in more than a decade, towards establishing any kind of identity.
– Stream on ESPN+: LaLiga, Bundesliga, MLS, more (USA)
You saw Leicester City almost explode. You saw AFC Bournemouth lose a game 9-0 and then go six matches unbeaten. You have seen the end of the Bruno Lage era. You've seen plenty of people calling for the end of the Jesse Marsch era (despite a better-than-average expected goal difference). You have seen the end of the "Steven Gerrard to succeed Jurgen Klopp" fairy tale. You've even seen Nottingham Forest sign an entire tiny Caribbean nation's worth of players, beat Liverpool and still finish last.
One of the few things you didn't see: the crossover. While the once widespread practice of fielding the ball and hitting it downfield for a target man rush has been in decline for more than a decade, the 2022-2023 season. it could really be the end of crossbreeding as we know it.
The death of the cross
In the 2008-09 season, Manchester United and Chelsea met in the Champions League final. Liverpool were leading the league on goal difference and were still winless. And Arsenal, led by 21-year-old Cesc Fabregas, moved the ball around at pace to finish comfortably in fourth place.
This was the era of the Big Four. Tottenham Hotspur played against Gareth Bale at full-back, finishing eighth with 45 goals scored and 45 goals conceded. Manchester City, meanwhile, have slipped to 10th, struggling for consistency in the first year since taking over from Abu Dhabi. In fact, only one of the teams in the bottom half of the 2008-09 season is still in the league today: Newcastle United, who were relegated with Alan Shearer — yes, that Alan Shearer — in charge of the side. Also relegated, perhaps foreshadowing what just happened in the UEFA Nations League: Gareth Southgate's Middlesbrough.
The list of managers elsewhere in the league evokes a pure and very specific kind of nostalgia: Phil Brown, Tony Pulis, Martin O'Neill, Roy Hodgson, Gary Megson, Sam Allardyce, Mark Hughes, Steve Bruce, Tony Mowbray. You read all those names, close your eyes and enjoy the memory of that yellow Nike ball that was kicked into the penalty area from wide positions, again and again and again.
Gab Marcotti and Don Hutchison discuss Liverpool's form after defeat by Nottingham Forest.
In the 2008-09 Premier League season, the earliest season for which Stats Perform provides, the average team crossed the ball in open play 17.5 times per game. If you sat down on Saturday or Sunday, you're likely to see around 35 attempted crosses between both teams in a 90-minute game. In fact, 21.9% of all passes in the final third were interceptions then. To say that "every fifth pass in the final third was a cross" would be to underestimate how often balls were sent into the box.
Fast forward to this season, and it's almost unrecognizable: Premier League teams are averaging 11.5 tackles per game and 14.7% of their final third passes are tackles — both the lowest marks since 2008-09.
As you can see in this chart, that's a fairly steady decline since the cross-heavy days of 2008-09. Save for a brief boost during the pandemic-interrupted season, when the way the game is played did significantly change, the trend is clear: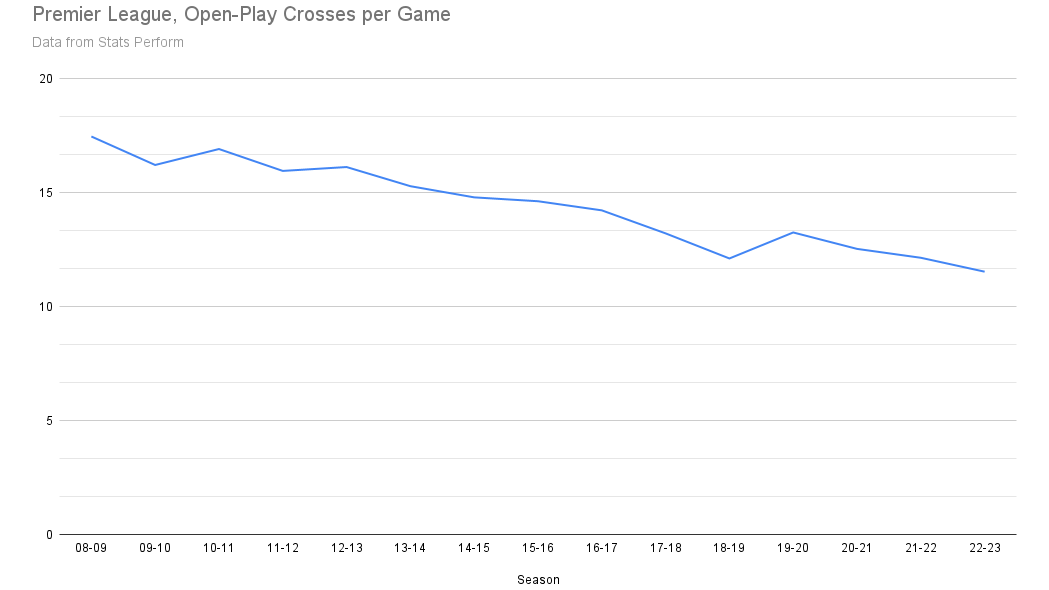 The same is true when you look at the percentage of passes in the final third that are crosses; in fact, the decline appears to be even steeper until the outbreak of the pandemic. The number dropped to 14.8% for the 2018-19 season before rebounding in the previous three seasons and then hitting a new low this year: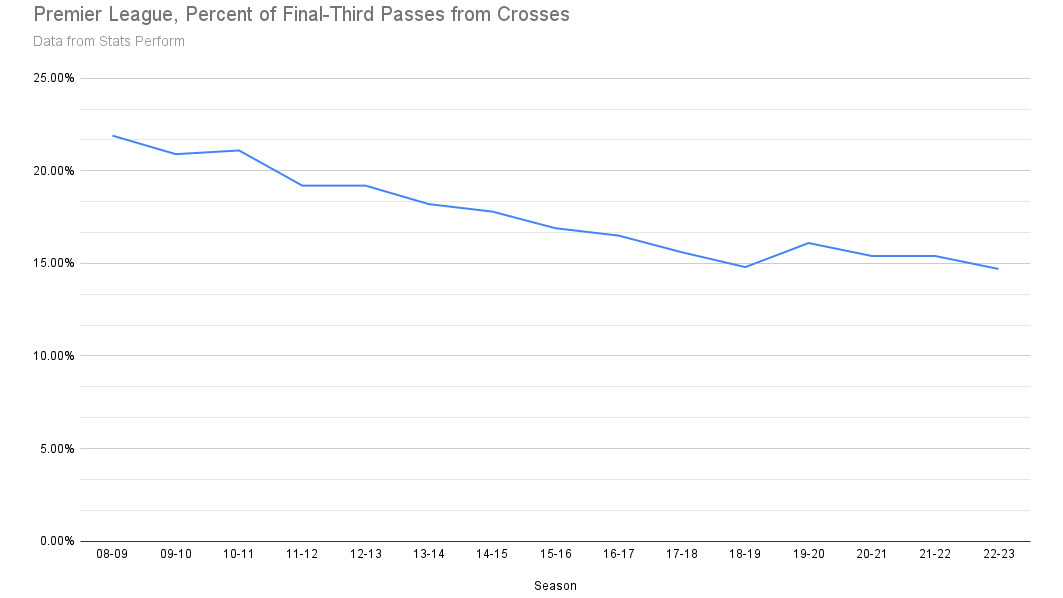 In the 2008-09 season, Bolton Wanderers led the league with 33% of passes in the final third being crosses. This season, ironically, the leader is West Ham United, managed by David Moyes, the only manager from the 2008-09 season who is still in the league today. However, West Ham, with 19.9% ​​of their passes in the final third being crosses, would then be only the 15th most cross-happy team in the Premier League.
In the 2008-2009 season, Arsene Wenger's Arsenal were still a supposed continental English culture, favoring quick, short passes over what sometimes seemed an easier and more direct route to goal. However, compared to many teams in the Premier League today, it would seem as though they are determined to turn every game into a brawl. In 2008-09, 16.6% of Arsenal's final third passes were throw-ins — more than 11 teams so far this season. The current iteration of the Gunners are getting the ball in with just 10% of their passes in the final third, while Erik ten Hag's Manchester United are even shyer, with a league-lowest 9.5%.
Among players with at least 500 minutes played, no player from this season would have ranked in the top 10 for open-play shots per 90 minutes in 2008-09. Liverpool's Trent Alexander-Arnold's 5.74 in the 90 would rank 11th, while only seven of them would be ranked in the top 50. Three of them are Aston Villa players — Leon Bailey, Lucas Digne and Matty Cash — while Manchester City's Kevin De Bruyne, Tottenham's Ivan Perisic, West Ham's Vladimir Coufal and Wolverhampton Wanderers' Pedro Neto are the others.
Among players with at least half his team's minutes, the leader in 2008-09 was Aston Villa's James Milner with 6.65 tackles per 90. This season Liverpool's James Milner is attempting just 3.34.
What is happening?
It seems like a long time ago now, but in December 2020, Arteta seemed to be holding on to everything he could to justify his continued involvement as Arsenal manager. After the 2-1 defeat to Wolves, he said the following:
"I think this is the first time in the Premier League that we have put in 33 crosses," he said. "I'm telling you if we do it more consistently, we're going to score more goals. If we put the bodies we've had in certain moments in the box, it's math, pure math, and it's going to happen."
Sarah Rudd disagreed. Arsenal's vice president of software and analytics, when Arteta talked about math and pure math, she pointed out crossover as one of the few easily exploitable inefficiencies in the modern game when I spoke to her for my book Net Gains: Inside the Beautiful Game's Analytics Revolution.
"There are little things, how where [coaches are] teaching the quarterback to come out and block the cross at all costs," she said. "And then you say, 'Let them cross from there. If they want to move on from there, that's fine.'"
Why would you let a player put the ball in there? Well, in the same way you can allow a basketball player to shoot inside the three-point line; it is ineffective. A 2014 study found that for Premier League and Bundesliga teams, crossover had a strong impact negative relationship with goals; in other words, the more you crossed the ball, the less you scored. Other, more recent, work has found that crosses, on average, lead to goals somewhere between 1% and 3% of the time. Even when you look at the goals that came after crosses, but not directly from them, the percentage of goals scored does not increase that much.
The average shot from outside the box, meanwhile, was converted 5.1% of the time in the Premier League last season, and that's not counting rebounds or other goals that came after the shot but not directly from it. So even if you replace an average cross with an average "bad shot", you still significantly increase your chances of scoring.
Arteta's current — and Rudd's former — club seem to have proven that. In the 2019-20 season. they averaged 14.2 tackles in open play per 90 minutes and 14.9% of their passes in the final third were tackles. The following year, these figures dropped to 11.2% and 12.5%. And this season they fell to 9.7% and 10%. Meanwhile, their points per game rates went in the opposite direction: from 1.6 to 1.8 to 2.5.
Of course, not every cross is bad; you've seen De Bruyne or Alexander-Arnold kicking a soccer ball. It's more that the game is moving away from aimless, poor crosses from wide against set defences, focusing instead on cutbacks and low crosses close to the touchline or early balls behind the higher back line. As the game has become increasingly globalized and domestic league styles have fed and influenced each other, most modern wingers now play on the "wrong" side, meaning they have to cut infield further away from traditional crossing areas.
Correspondingly, teams are also relying less and less on the true and/or traditional number 9, a kind of immobile but aerially dominant big man who camps inside the penalty area. So there are fewer players who can actually cross the ball and fewer players whose main skill is finishing crosses.
Perhaps it improved the crossbreeding, however. It's still early in the season, but 22.5% of open-play crosses this season have been completed — a full two percentage points more than the previous high, in 2008-09. If everyone relies less on crosses in the final third, then perhaps the only players still allowed to cross the ball without being benched by their manager are the ones who are the best at it. Perhaps, with no obvious target to target, they only cross the ball when they see a clear passing lane and an open teammate. And maybe, one day, if the trend continues in the same direction towards fewer crosses, more complex attacking play and faster, smaller defenders to stop it, we'll end up seeing someone push for a return to the 2009 ball to take advantage of all players who no longer know how to defend crosses.
"Football is really different from baseball [and other sports]in that you constantly have these tactical innovations and revolutions that are driven by the coaching staff," Rudd said. "So a lot of truths like that change very, very quickly."