Book

"I put the light on for a few nights!"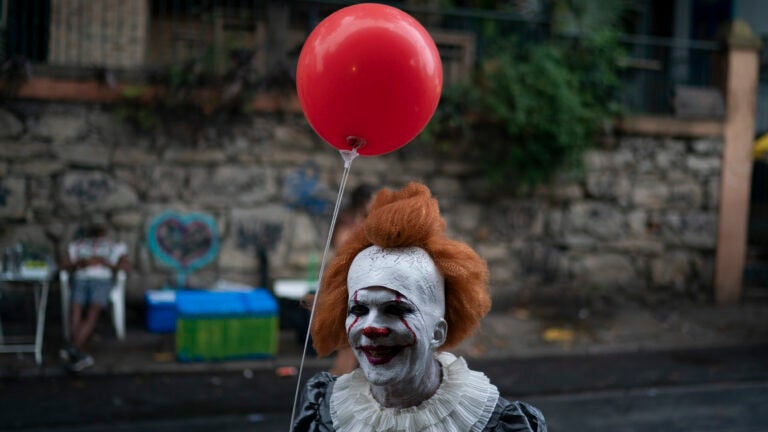 For those who love horror and thrills, there's no better time to dive into a horror book than during Halloween. If you're looking for a scary story to get you through Halloweekend, Boston.com readers have a long list of ideas.
In honor of the holiday, the Boston.com Book Club read the horror comedy "Dead Flip" by Sara Farizan. We also asked readers to share the best horror books they've read to create this guide to spooky season reading. This reader recommended list covers everything from supernatural horror to true crime and features some new horror writers like Stephen King and Cormac McCarthy.
Below you'll find 20 horror stories that readers recommend you keep reading past the witching hour.
"Son of God" by Cormac McCarthy (1973)
This thrilling story follows the life of a brutal serial killer living in Appalachian Tennessee. First published in 1973, "Child of God" is Cormac McCarthy's third novel. He republished his first book in 16 years.
"Excellent character development. Guilt all the way," said one reader about "Son of God."
"Cujo" by Stephen King (1981)
The master of horror often appears on this list and some readers call "Cujo" his most impressive work. The book has a simple premise about a Saint Bernard terrorizing the city, but readers say you won't want to put it down.
"If you're into books that really scare you, this is it! Even after reading the book, the movie scared me," said Laurence H. from Salem.
25 must watch horror movies streaming right now


10 Scary or Camp Movies With Local Connections Perfect for Watching on Halloween

"Ghost Story" by Peter Straub (1979)
Readers and writers alike will love this story about four men who have been haunted by violence since their youth.
"'Ghost Story' got me," said Sue C. from Jamaica Plain. "I kept the light on for a few nights!"
"Goosebumps" by RL Stine (1993)
The tagline said: "Reader beware – you're in for a treat." If you have a child in your life with an interest in horror or the supernatural, readers recommend that you refer them to the "Goosebumps" series. There are over 100 spooky stories to choose from, including haunted houses, demon puppets, ghosts, and more.
"Heart-Shaped Box" by Joe Hill (2007)
This first horror story is a supernatural tale about a man who is haunted by a ghost trapped in a dead man's funeral clothes. Hill is the son of authors Stephen King and Tabitha King, and has written horror stories and thrillers himself.
"I'm Thinking About Ending Things" by Iain Reid (2016)
Readers will find this psychological thriller exciting and thrilling to the last page. The story revolves around a young woman who goes to a farm with her new boyfriend to meet his parents for the first time.
"I started the book the afternoon it was given, and by 4 o'clock the next morning, I was still reading it because I couldn't go to sleep thinking about it in such a horrible and horrible way. ," said Mary from Quincy.
"It" by Stephen King (1986)
This book, now the movie, has become a horror story. This story follows a group of children who are threatened by a monster who uses their fear to disguise himself while hunting them.
"The first time I read this book, many years ago, I was pregnant. I have to stop reading. It really scared me," said Dianne R. from Revere. "I got it years later and it was horrible, nothing to do with pregnancy hormones. But I found it to this day, the scariest book I've ever read. "
"In Cold Blood" by Truman Capote (1965)
The most frightening thing about "In Cold Blood" is that it is not a work of pure fiction. The book describes the four murders of the Clutter family in 1959 in a small farming town in Kansas.
"He published the true crime books and documentaries of today. There is no boogeyman. But the monster is human and he has built around psychological terror," said Craig C. from Cambridge.
"NOS4A2" by Joe Hill (2013)
In this story, Joe Hill created a supernatural adventure story and set it in a Massachusetts town. Protagonist Victoria McQueen escapes the story's villain as a child and prepares to confront him after her own son is put in harm's way.
"This is a great read – really scary villains and sound too. The son of a famous author himself," said Bob from Somerville.
"Pet Sematary" by Stephen King (1983)
This is a story about a family who recently moved to a small town in Maine where generations of children have built a graveyard for their dead pets. Apart from those graves there are other graves that really trouble the residents of the city.
"Salem's Lot" by Stephen King (1975)
Vampires are a staple of the supernatural horror genre, and readers say King tells one of the best vampire stories in "'Salem's Lot."
"The setting is small town Maine and bloodthirsty vampires at night. This is King's masterpiece," said Jeff L. from Andover.
"Starve Acre" by Andrew Michael Hurley (2019)
Andrew Michael Hurley has created a terrifying account of grief in this story about a couple who joins a group of occultists after the death of their five-year-old son.
"Awesome depth, slowness, and confidence building. People surround themselves with the horror that will happen to them," said AT Drost from Boston.
6 takeaways from the 'Dead Flip' interview with author Sara Farizan


This Cape Cod bookseller wants to help you find your next read

"The Amityville Horror" by Jay Anson (1977)
If you like scary movies or books, you have heard this story about a house that is overrun by evil spirits.
"I read this way before the film was made. I can't put it down without fear in my heart," said G. Gilbert from Marblehead. "I threw the book in the trash after I read it because it was horrible!"
"The Bunker Diary" by Kevin Brooks (2013)
Readers say this horror story is not for the faint of heart. The book is set in a bunker where a young man and others are held hostage by a sociopathic kidnapper.
"Even though it's a young adult novel, this book has had me hooked since I read it years ago. Readers will be left speechless after this page-turner," said Erin from Boston. "Aren't the worst stories that can happen in real life?"
"The Exorcist" by William Peter Blatty (1971)
There is no more compelling story of demonic possession than "The Exorcist." The movie adaptation is featured in Boston.com's guide to the best horror movies available on streaming.
"This book is perfect. I read it and the explanation he received sent chills down my spine. One part I read and it scared me so much, I put the book down and didn't start reading it again for a week," said Bill P. from Kingston. "When they say the book is better before the movie, it's one of those books."
"The Girl in a Swing" by Richard Adams (1980)
In this story, a whirlwind romance goes awry when the couple begins to experience terrifying visions of death and violence.
"A beautiful and terrifying novel by the author of 'Watership Down.' The lengths someone will go to live the life they want," said Nelson from Dexter, Maine.
"The Road" by Cormac McCarthy (2006)
In this compelling story, a man and his son try to survive in a post-apocalyptic world.
"I always think about the low scene with the amputees who are eaten by cannibals one limb at a time and get cold," said one reader.
"The Shining" by Stephen King (1977)
Read this epic tale of a descent into madness, then watch a different film adaptation.
"This is hands down the only book that really scared me. The way your mind runs with the words on the pages and you know this same situation is going to happen to you? Scary," said and Gina from Woburn. "I like scary books, I don't get scared easily, but this is the one I don't read anymore because it has a big effect on me."
"The Stand" by Stephen King (1978)
Our final recommendation from King's catalog is a dark series that hits close to home. After the world is wiped out by a terrible disease, all that is left is fighting for the fate of humanity.
"After reading two paragraphs, I was hooked and stayed up until 4 a.m. to finish it," said George P. from Franklin. "Very good, because at that time, it was very good."
"The Troop" by Nick Cutter (2014)
The Canadian wilderness is the setting for this story where a group of boys on a camping trip encounter "the human transporter of a bioengineered dream."
"Army by Nick Cutter is a new thing that haunts my dreams," said one reader. "Pro tip: Don't eat pasta or noodles while reading."
Stay at the Book Club again
Get the latest Boston.com Book Club selection and join virtual author discussions.